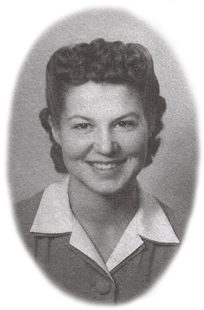 Founder & Director of Moore Academy 
THE MOORE REPORT INTERNATIONAL
In Loving Memory of Dorothy Nelson Moore 1915-2002
DOROTHY...A MODERN DORCAS
By Raymond S. Moore…Her loving husband
Edited by Dennis R. Moore & Kathleen Moore Kordenbrock
Although Dorothy Moore's ancestors came from Norway, her family called her a Norwegian Indian. Her brown eyes, dark hair and slightly darker skin contrasted with Norway's more common blonde, blue-eyed women. Born on a farm in Bruce, South Dakota on October 30, 1915, she matured into a Methodist and Seventh-day Adventist Christian. And the farm girl that she was, she helped her father at his dairy in California almost until she finished at Long Beach, CA Junior College and went to Pacific Union College. There she became student supervisor of the College Laundry and acclaimed by college men as the best shirt ironer on the crew. 
Dorothy was a highly respected and high-achieving student leader whose first concern was poor or troubled girls. She became an admirer of Ellen White—a legacy she left her family. As a college junior, the Secretarial Department staff found that she was a California State Spelling Champion and Gregg Shorthand gold medallist, so she became PUC's shorthand teacher. 
She chose Raymond Moore as her husband, from an avid group of male admirers. When she asked if he would like to be a vegetarian, he replied, "I would love to be a vegetarian!" 
She was distinguished in public service in California schools as a remedial reading specialist and as a faculty wife at the University of Southern California. There followed a call in turn to Pacific Union College where as a faculty wife and Sabbath School leader she led in the rearing of two tots, Dennis and Kathleen. Eventually she and her man also reared and educated seven "chosen" teenagers through college. 
In 1951 Dorothy again shared a call, this time to Japan. Some friends were surprised that she would accept the call, since her husband and brother had been in the War against Japan five to ten years before. Yet God had arranged in the meantime for them to have outstanding Japanese secretaries and friends at PUC and in Hawaii. They were to raise San-Iku Gakuin to senior college standing, get it accredited and move ahead on an Adventist school system for Japan and Okinawa. 
It was then that God started their astonishing series of love affairs with Japan, even with Senior Prince Takamatsu and his lovely princess, who were fascinated with the plan given by Ellen White. The college established a balanced work-study-service plan at the college in which all teachers worked with students. Under this plan they were blessed with heaven's success. The school came completely out of debt. The enrollment demands were so great that San Iku eventually could accept only one out of every six applicants. There was no discipline committee, for the College had no discipline problems during the five years that faculty worked together there. San-Iku teachers taught all students with their affiliated university, Tamagawa and achieved Japan's highest scores in all teacher education subjects, including agriculture. 
After a few years of being wife and mother in Japan, the Philippines and Washington, D.C., Dorothy became the founding director of the Loma Linda University Cerebral Palsy Clinic in California. 
She has since spent about 40 years as Secretary-Treasurer and editor for two research foundations. Out of these have come many studies for the Church or inspired by its teachings, for example, early childhood education, school entrance age, and teacher-student work-study programs. So was inspired the resurgence of the old-fashioned homeschool movement, which Reader's Digest, OPRAH and others published to the world. Dr. James Dobson credits them for founding it worldwide. 
Since 1983, Dorothy has headed a team of carefully selected educational counselors who have fulfilled the dream of helping families educate their own children legally. They set up individualized programs for each child enrolled, creating units of study tailored to the child's interests, aptitudes and abilities. This program has come to be known as the Moore Academy, which continues serving hundreds of families every year and has formed the basis for the new Malachi Movement for family togetherness and work-study-service balance in schools. 
The most precious memory of this memorial to Dorothy has been the determination of unnumbered friends who have voiced their anticipation of greeting her when our Savior raises her from her sleep of death, which Solomon addresses in Ecclesiastes 9:5-10 and the Apostle Paul describes so vividly in I Thess. 4:13-17. Her record remains in the Book of Life awaiting the call of The Eternal Life-giver. What a day! We can hardly wait!